2020
May 5th, 2020
An Event Series on New Materialisms #08
ILA-ryhmä: Yhdessä elämistä – uusmaterialistisia kokeiluja pohjoisesta (Rantala, Valtonen & Salmela)
(UPCOMING) September 22.-24., 2020
29TH NORDIC SYMPOSIUM ON TOURISM AND HOSPITALITY RESEARCH 2020: Shaping mobile futures: Challenges and possibilities in precarious times, University of Akureyri, Iceland
Keynote presentation: Envisioning tourism with our proximate surroundings / Rantala, Outi
http://www.rmf.is/en/research/conferences/29th-nordic-symposium-2020
(canceled due COVID-19) May 14–15, 2020
Ecofeminism and Education Conference ECOFE2020, Tampere, Finland
Conference presentation (accepted): ""Can you talk to me if I just lay here and listen…" A noble plea for help from dying trees" / Salmela, Tarja
https://events.tuni.fi/ecofe2020/
28th February, 2020
13–15 p.m., University of Lapland, Matkailu antroposeenin aikakaudella / Häiritsevä yhteiskuntatutkimus -perjantaiseminaari (in Finnish)
Antroposeeniksi kutsutaan meneillään olevaa aikakautta, jossa ihmiskunnasta on tullut planeettamme toimintaa muuttava geologinen voima; kuudes sukupuuttoaalto ja biodiversiteettikriisi juontuvat osin ihmisen toiminnasta maapallolla. Matkailun rooli ja sen kriittinen tarkastelu tässä ajassa on välttämätöntä eikä vähiten siksi, että matkailulla on osansa maailman kasvihuonekaasupäästöjen muodostumisessa. Erityisesti lentoliikenteen tulevaisuuden voimakkaat kasvuskenaariot vaativat kriittistä tarkastelua ja vaihtoehtoisia näkökulmia.
Puheenvuorossaan apulaisprofessori Outi Rantala, tutkijatohtori Tarja Salmela ja tutkijatohtori Emily Höckert avaavat keskustelun vaihtoehtoisista matkailun tarinoista keskittymällä erityisesti lähimatkailun tarjoamiin mahdollisuuksiin ja haasteisiin antroposeenin aikakaudella. Alustus perustuu Suomen Akatemian rahoittamaan hankkeeseen Matkailua lähelle – uusmaterialistinen näkökulma, www.ilarctic.com.
2019
9. September 2019
A public project launch / presentation at Pyhä-Luosto visitor center Naava
(in Finnish)
4-6. July 2019
Conference presentation at EGOS 2019(European Group for Organizational Studies) Enlightening the Future: The Challenge for Organizations, Edinburgh, UK. Subtheme 16: Discursive and Material Struggles over the Natural Environment.
Engaging with More-than-human Ethnography to Envision Tourism Futures: A Feminist New Materialist Approach. Salmela, T., Valtonen, A., Höckert, E. & Rantala, O. (accepted)
Conference Presentation at 8th CTS conference, PRIDE AND PREJUDICE: Que(e)rying Tourism Hope, 24-28 June 2019, Ibiza, Spain.
Toward Hospitable Methodologies in Tourism / Höckert, E. & Grimwood, B. (accepted)
13.-14. June 2019
Conference presentation at THE 3RD PEACE­FUL CO­EX­IST­ENCE COL­LOQUIUM: After the anthropocene: time and mobility, Helsinki, Finland.
Envisioning proximity Tourism: A New Materialist Reading / Rantala, O., Höckert, E., Salmela, T., Valtonen, A. (accepted)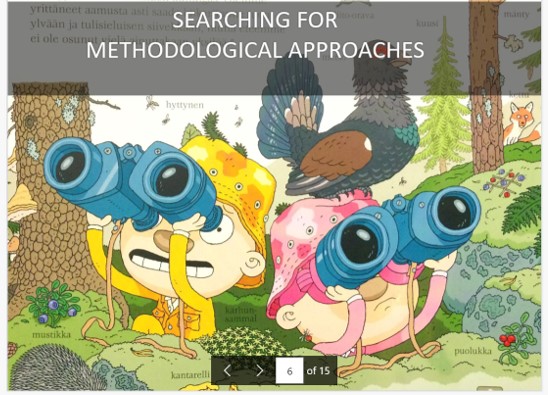 2.-10. May 2019
Intra-living in Keropirtti, Pyhä, Finland
14. April 2019
Lecture, University of Lapland, Rovaniemi, Finland.
Monilajinen yhteiselo / Höckert, E. & Salmela, T.
2018
9. December 2018
Science Slam, Café Koti, Rovaniemi, Finland.
Kyläilemässä / Visiting / Rantala, O., Salmela, T., Valtonen, A & Höckert, E.
22–23, November 2018
Conference presentationa at YHYS Colloquium, Rovaniemi, Finland.
On Scientific Fabulation / Höckert, E.
The Trouble with Mosquitoes? / Valtonen, A., Rantala, O. & Salmela, T.