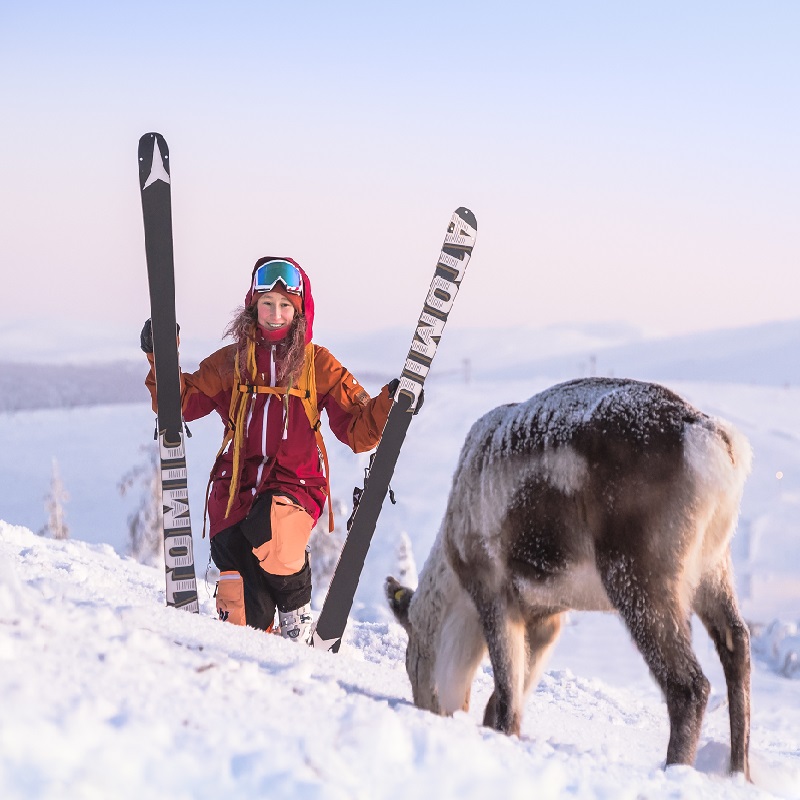 Moving to a foreign country will be exciting but there are also a few things you should pay attention to. Here we have collected some facts that are good to know before you move.
Did you know, for example, these facts?
180,000 people, 200,000 reindeer
and 1 Santa Claus in a 99,000 km2 area.
Snow on the ground 200 days a year.
Northern lights on 200 days a year.
Two months of the polar night in winter and
Two months of nightless nights in summer.

Everyday life
Where to live, where to shop, and how to move around in Lapland.

Nature and leisure
Do you want to know how people in Lapland spend their free time and what is our beautiful nature like?

Career opportunities in Lapland
What are the livelihoods and career opportunities in Lapland?

Traditions and weird  things
Foreigners may find some of the Finnish habits quite weird, or at least very interesting. 
There are multiple things you can experience in Lapland but let's start with the ordinary things that affect your everyday life like housing, shopping, moving around, and what to wear in the unpredictable weather in Lapland. 
Expenses in Lapland are lower than for example in the capital region in southern Finland. Living in Lapland is also much more affordable.
An estimated monthly budget of a student
Rent 300 € (cell apartment) – 400 € (studio) 650 (one bedroom) 
Food 200 €
other expenses (for example electricity, water, internet) 150 €
monthly bus fair 34 € 
Student lunch in campus restaurants costs around 3 €.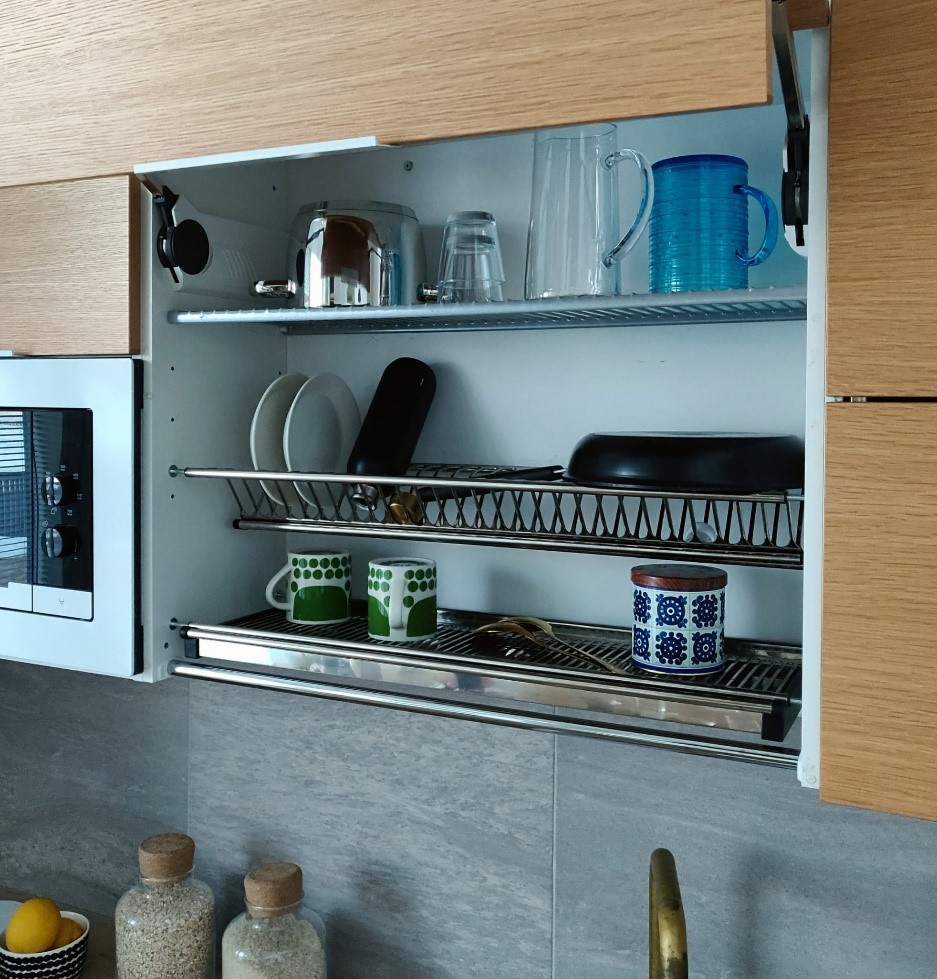 Picture: Dish drying cabinet in a Finnish home, Mona Feodoroff 
Housing
The most common types of housing in Finland are owner-occupied housing, right-of-occupancy housing, and rented housing, either state-subsidised or private. For students, there are special student apartments provided by foundations and companies. For example, if you are a student coming to study in Rovaniemi, you can apply for an apartment from DAS (Domus Arctica Foundation). You can get more detailed information about housing from the University. 
The majority of property listings are usually online and on social media. You can also visit estate agents' offices or post your own search ad.
Finns generally enjoy being home and like to invite friends and relatives for visits. Being invited to someone's home is a sign of friendship and trust. You should always remember two things when someone's home:  arrive in time and take off your shoes.
Recycling in Finland
In Finland, we recycle to keep our nature clean. We sort our waste at home by materials and take it to the correct container. There are lots of recycling containers in the cities and smaller villages. 41 % of the trash is used as new materials, 55% is burned to generate energy, and 4% is used as a landfill. (Napapiirin Residuum Oy, a local recycling company). 

We also return cans and bottles to the store, and you get a small deposit back. The deposit is usually 0,20 € – 0,40€ per can or bottle. 
Everyday shopping and buying alcohol 
There are several big supermarkets in Finland like Prisma, Citymarket, and Minimani, which can be found in cities like Rovaniemi, Kemi, and Tornio, and also a lot of smaller markets. 
Alko Inc. is the national alcoholic beverage retailing monopoly in Finland. It is the only store in the country which retails alcohol over 5.5% ABV, wine (except in vineyards), and spirits. Alcoholic beverages are also sold in licensed restaurants and bars but only for consumption on the premises.  (Alko.fi, about ALKO).
Moving around
If you are fed up with big traffic jams and crowded public transportation, you have come to the right place! In Lapland, you don't have to worry about those things. For example, in Rovaniemi, everything is within a few minutes drive or bicycling.
In Rovaniemi, there is a public transportation system but you may have to wait for a bus for up to 30 minutes. So, in many cases, it is faster to walk or ride a bike.
Cycling is a practical way of getting around even during winter. Roads are maintained well, but can sometimes be a little icy and slippery. So stay focused and be careful! No matter what vehicle you are driving.
In Lapland, distances may be long between cities but traffic is usually quiet. Although there may be some reindeer to slow you down.

As a student, you also get to enjoy the student discount while traveling by bus or train!  
Picture: Lapland Material Bank, Maps
Picture: Lapland Material Bank, Studio Arctica
Shopping, Finnish brands & traditional

Sámi

handicrafts
Who doesn't love good quality brands and designer items! Finland's most popular and well-known brand is Marimekko. Marimekko's most popular design is Unikko (poppy) which symbolizes creativity. (Unikko pattern in the picture above)
You may also already be familiar with some of the famous Finnish design items for example Moomin Mug. Moomin mugs can be found in almost every home and it's also a common gift product.  
The most famous Finnish architect and designer must be Alvar Aalto. Alvar Aalto has designed many sites and the most famous in Finland is Finlandia Hall in Helsinki. Alvar Aalto has also designed the City plan in Rovaniemi. The City plan is also commonly referred to as the "reindeer horn "due to its appearance of the plan. 
In Lapland, you may also come across Sámi handicrafts. The Sámi are the only indigenous people of the European Union. Sámi handicrafts are traditionally made at home, and the skills are learned within the family. In addition to the handicraft itself, the tradition includes knowledge about nature, resources, and processing of the handicrafts, handicraft skills (personal style), knowledge of the handicraft's cultural background, the purpose of use, and significance. 
Picture: Lapland Material Bank, Sámi Cultural Centre Sajos
How to behave like a Finn?
Actually, you don't have to learn how to behave like a Finn, but there are certain things you should keep in mind.
For example, following rules and norms comes naturally for Finns. You rarely see someone crossing the street when the light is red. We also like to stand in line, sometimes even for hours to get free buckets on an opening day of a new shop. That makes sense, right?
Finns are also one of the world's top consumers of coffee, along with other Nordic countries. Drinking coffee is an important social occasion which happens many times in a day. During work or studies break is not just a brake, it is a coffee break. Don't worry too much, your stomach will get used to it eventually.
Finnish alcohol culture is considered exclusive, meaning that it's not usual to have a glass of wine or pint of beer over lunch, or even after work.
How to dress like a Finn?  
Our weather here might be unpredictable but with this chart, you can dress like a Finn and maybe learn a few Finnish words at the same time!
The key word is kerrospukeutuminen, which means you should always remember to wear many layers when it's cold!
Important to know
If you move to Lapland from another EU country, the Nordic states, Switzerland or Liechtenstein, you do not need a residence permit to live in Finland. But please note, if your studies last longer than three months, every student needs a residence permit, which you can apply for from Finnish Immigration Service.
Also, a good thing to remember is that Finns use online banking credentials almost everywhere, you can attend to many official matters online, such as identifying yourself electronically, solving most of the tax-related issues, registering as a jobseeker, applying online for the recognition of your social rights and benefits at the webpage of the Finnish Social Insurance Institution (KELA), etc.
So, when you have settled in Lapland, please pay a visit to a local bank with your passport, identity card for foreign citizens, or some other official identity card.
Some might say, there are eight seasons in Lapland, which are frosty winter, snowdrift spring, ice-run spring, nightless night, harvest, fall colors, first snow, and Christmas time polar nights. So, there's something for everyone.
Lapland is full of extremities. It offers everything from a genuine untamed wilderness to cosy and world-class resorts to cities like Rovaniemi, the lively capital of Lapland.
Unlike in many other similar Arctic areas here, things really work and even the remote areas are easy to reach. And that makes Lapland both safe and extreme at the same time
Source: Lapland Material Bank, Lapland presentation
Picture: Lapland Material Bank, Terhi Tuovinen
Polar night & Midnight sun
Polar night or as we Finns call it, Kaamos, is a period between December and January when the sun does not rise at all. There is still light from 10AM to 3PM so the light period lasts around five hours. Usually, there is snow on the ground, so it makes the period much lighter. 
Kaamos is also a time of phenomenal Arctic light performance, during which the sky is blue when looking North and red in the south. Around 2PM, a so-called "a blue moment" takes place, when everything including the sky and snow turns blue. This unique natural phenomenon occurs only here in the Arctic area, and you cannot encounter it anywhere else in the world. (kakslauttanen.fi, What is Kaamos or Polar night?.)  
Indeed they can. But that is not the whole truth as you can see by looking at the picture below which is taken in November. 
Picture: Lapland Material Bank, Terhi Tuovinen 
Picture: Lapland Material Bank, Simo Vilhunen
What to do here in your free time?
If you are wondering what to do in Lapland in your free time, please take a look at these two blog posts where one of our students from the University of Lapland explains what kind of free time activities there are for you to do – and most of them without any extra cost!
Costs of free time activities
There are a lot of activities that you can do in Lapland:
Eating out in a restaurant (fast food) 10 – 15€
Swimming 5 – 6€
Downhill skiing 23 – 43 € (depending on time and place)
Movies 12 –15 €
Bowling 23 – 30 €
There are also multiple places to explore nature for free! Students also usually get discounts on different activities like sports activities, gym membership, etc. So, don't hesitate to ask for more information. If you are studying in Rovaniemi, you will be provided a Welnesspass (hyvinvointipassi), which gives you discounts on wellness activities.
Many ways to move around during winter
One of the most popular outdoor sports during winter is cross-country skiing. There are thousands of kilometers of cross-country ski trails in Lapland. Along the ski trails, you can find shelters with a fireplace, called laavu. These are great places to have a break and enjoy some refreshments and food. If you want to go enjoy nature and untouched deep snow (umpihanki) by foot, snowshoes are definitely a great choice. If you fancy speed and motorized vehicles, then snowmobiling is your thing.
Be aware that there are certain rules to be followed on the ski trail, like never to walk on a trail. If you break the rule, you may encounter some angry skiers. There's actually a specific Finnish word for this kind of angry behaviour: laturaivo (ski trail rage).
Picture: Lapland Material Bank 
Let's start with a few facts about livelihoods in Lapland.
Clean nature and abundant natural resources provide a unique, solid foundation for the business sector in Lapland:
In 2020, there were 12,800 enterprises in Lapland
Industry is the largest field with a turnover of €6,339 million in 2020
Lapland strongly specialises in minerals, tourism, and forestry, and the region produces a significant part of Finland's total turnover through them
Lapland is also the 5th strongest export region in Finland and has significant growth potential as a part of the Barents region
Source:  Lapland Chamber of Commerce, Livelihoods in Lapland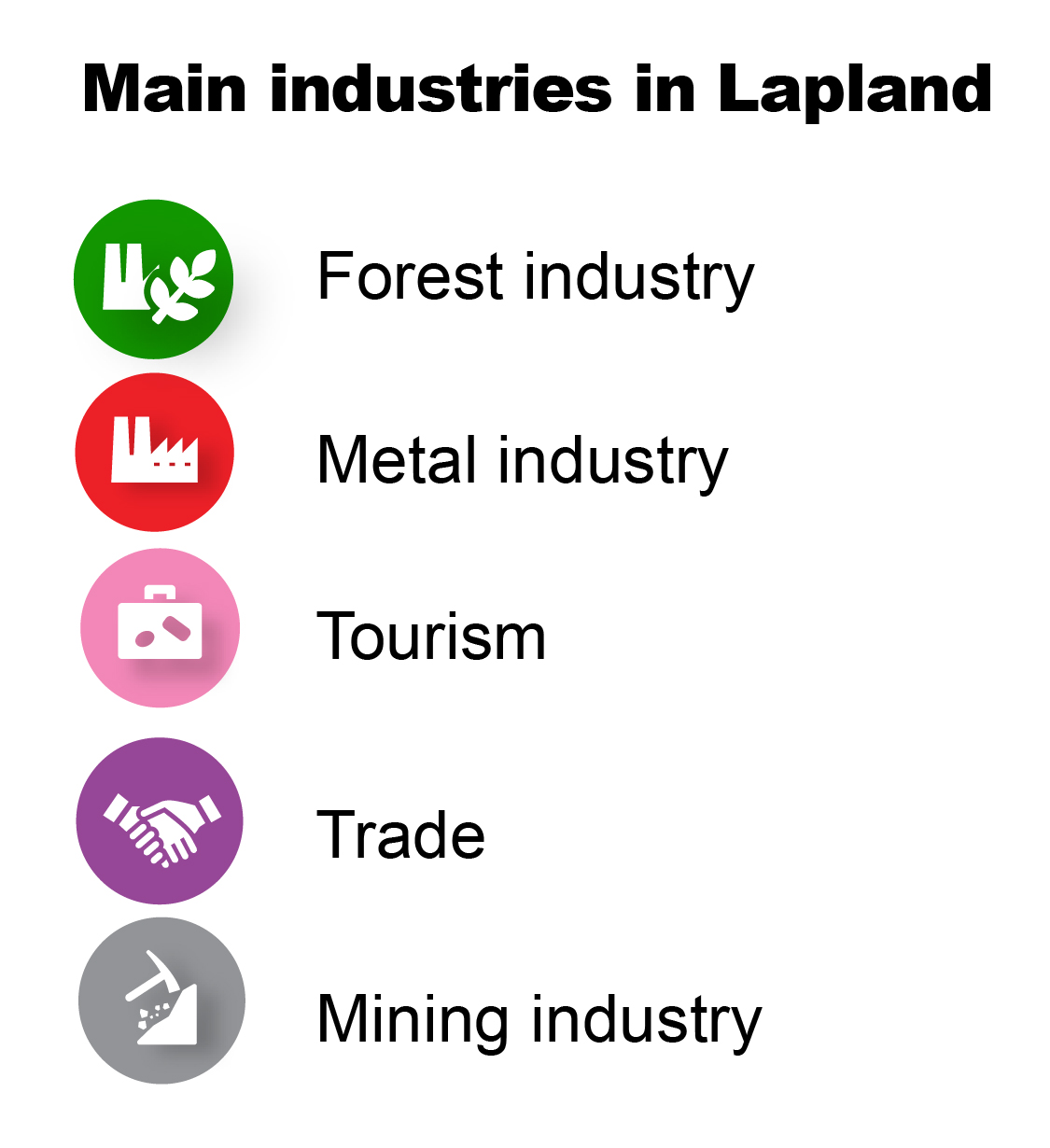 Picture: Lapland Material Bank 
Sustainable development
Lapland lives and breathes its natural resources. That's why we in Lapland want to use them sustainably and responsibly. Sustainable development is an integral part of companies' activities, whether it's reindeer husbandry, tourism or industry. (Lapland presentation, Lapland material bank).
Did you know that in 2021, Finland came first in the international comparison of sustainable development? Or that Finland's new sustainable development goal is a prosperous and globally responsible Finland that protects the carrying capacity of nature? (Government press release, 14 June 2021).
Picture: Lapland Material Bank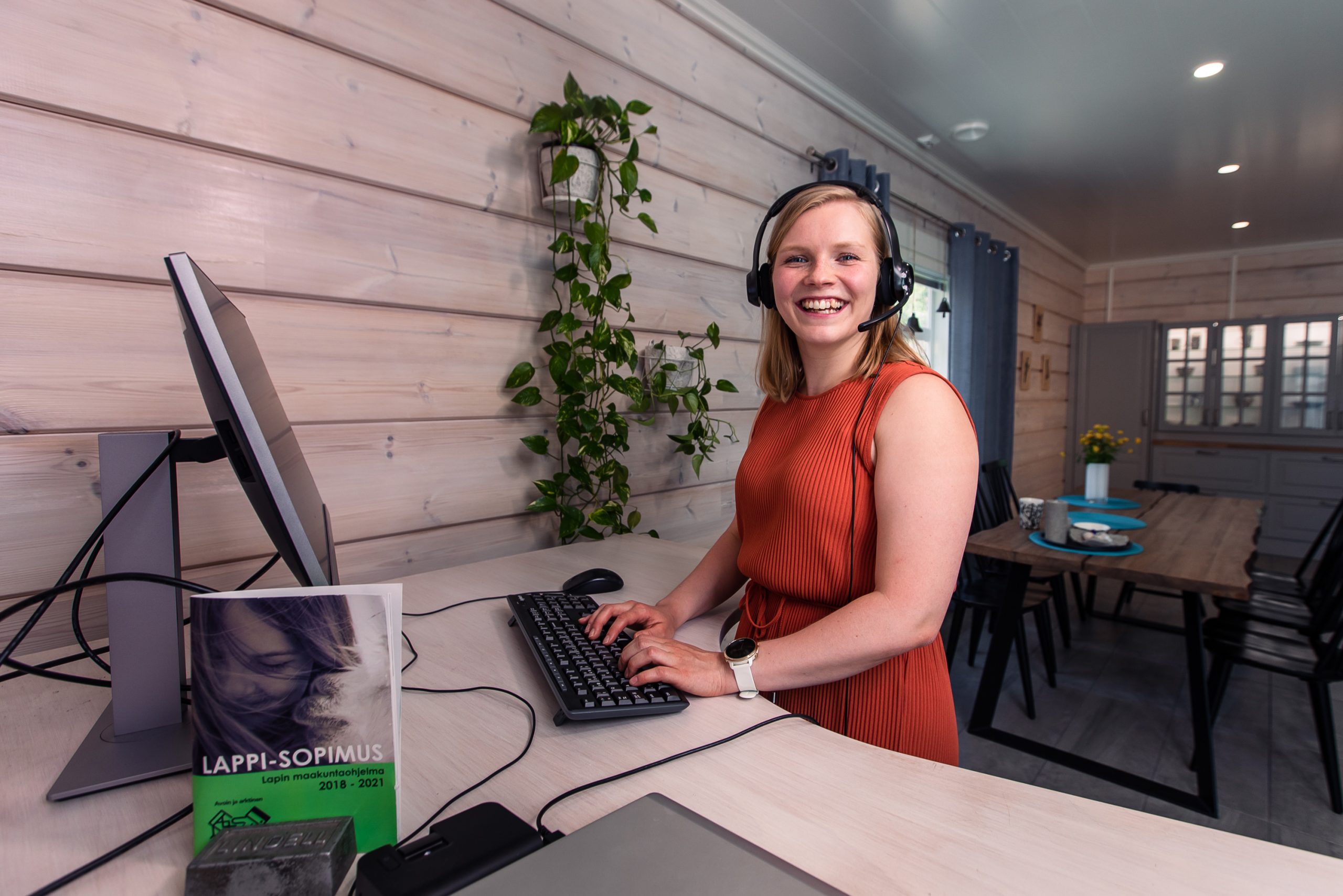 Picture: Lapland Material Bank,  Alexander Kuznetsov
Working culture
The Finns usually make sensible use of their time. We follow schedules, meet deadlines, plan in advance, and expect the same from others. At work, Finns expect well-defined targets and processes, while taking authority and responsibilities seriously. 
Did you know that equality is at the very heart of Finnish society? Finland is one of the most gender-equal countries in the world (The Global Gender Gap) and was the first country to grant full political rights to women in 1906. Women have already served as President of the Republic and President of the Supreme Court. A female professor, executive, or CEO is nothing exceptional in Finland and, overall, 49% of all employed people are women. 
Regardless of their position in the company, most people are on a first-name basis. Finnish companies generally have a flat organizational structure and informal work relationships are commonplace. 
A healthy sense of humor is an asset in the workplace. The Finns work hard but also greatly value their free time with family and friends. The best way to experience Finnish culture is to join in the many activities, events, and celebrations that take place throughout the year. 
Source: Business Finland
Entrepreneurship
Finland is a great place to do business. Getting started is easy and there is support available for new companies. Entrepreneurship can be a strong alternative to competing in the job market.
Planning your career
Remember that career is not always a linear and straightforward process. Quite a few of us can plan our careers from beginning to finish, moving forward linearly so that it is a clear process with a start and finish. Even though we might think that way afterward. Often, we might find ourselves floating from job to job, and the decisions might look quite random. Also, many times people might already have a successful career, but still, keep their options open. And that is ok – part of the process!
Every job and job interview gives you the possibility to learn something new and gives you guidance on what you (and do not) want to do in the future.
Did you know that…
An estimated 70-80% of the private sector's employment opportunities in Finland are not advertised publicly, but remain "hidden". So be active, get to know people, and build networks!
Picture: Lapland Material Bank 
Traditions and weird things
" Tomorrow is always in the Future "  
– Matti Nykänen, Famous Finnish skijumper
Some Finnish traditions
Annual Finnish celebrations include Christmas, New Year's Eve, Easter, Labour Day, Midsummer, and Independence Day. They all include their own traditions and food.
Traditional midsummer celebration Juhannus takes place in late June.  It is also a common starting point for the annual summer holidays. Juhannus has traditionally been a popular time for weddings and different kinds of traditions like lighting bonfires. Sauna and spending time at the cottage are also must-do things during summer.
Finns also like to compete in many kinds of strange and funny competitions like wife-carrying, swamp football, mobile phone throwing, bucket sneaking, or sweet talking to your dog.
Porocup - Reindeer race
Reindeer races have been organized in Finland since 1932. Every year in February the race takes place in Rovaniemi and the fastest reindeer compete with each other. 
Picture: Lapland Material Bank, Markus Kiili 
Source: visitfinland.com 
Watercross with snowmobiles
Did you know that you can ride across the water on a snowmobile? The snowmobile is ridden on a specially defined course built on the river. Sometimes a lap doesn't go as planned and the rider's snowmobile sinks into the river. The rescue operation is a procedure all of its own and one that is closely linked to the sport.
Next to the center of Sodankylä, on Nilimella beach, watercross races, a large sight, are held every summer.
Picture: Lapland Material Bank, Terhi Tuovinen
Source: visitsodankyla.fi
Did you also know that...
Finns like to eat salmiakki, a black sweetie which is not sweet at all. It's actually made of licorice, salt, and ammonium chloride.
In Finnish restaurants, service is always included in the price, so tips are not expected. Although, it is not forbidden to tip if you receive some exceptional service.
Finns like to eat rye bread, called ruisleipä, which is a national food of Finland.
It's not permitted to sell alcohol in supermarkets after 9 p.m.
Japanese invention, karaoke singing, is popular in many bars. The quality of the singing is often very variable, so why not give it a try?
Finland is home to many famous heavy rock and metal bands, including Nightwish, HIM, Children of Bodom, Amorphis, and Stratovarius.
Finnish national sport is pesäpallo – Finnish baseball, invented in the 1920s.
Finland is a secular country, so religion doesn't play a big role in daily life. The majority of the population is still Lutheran, so Finnish cultural history is strongly rooted in Christianity.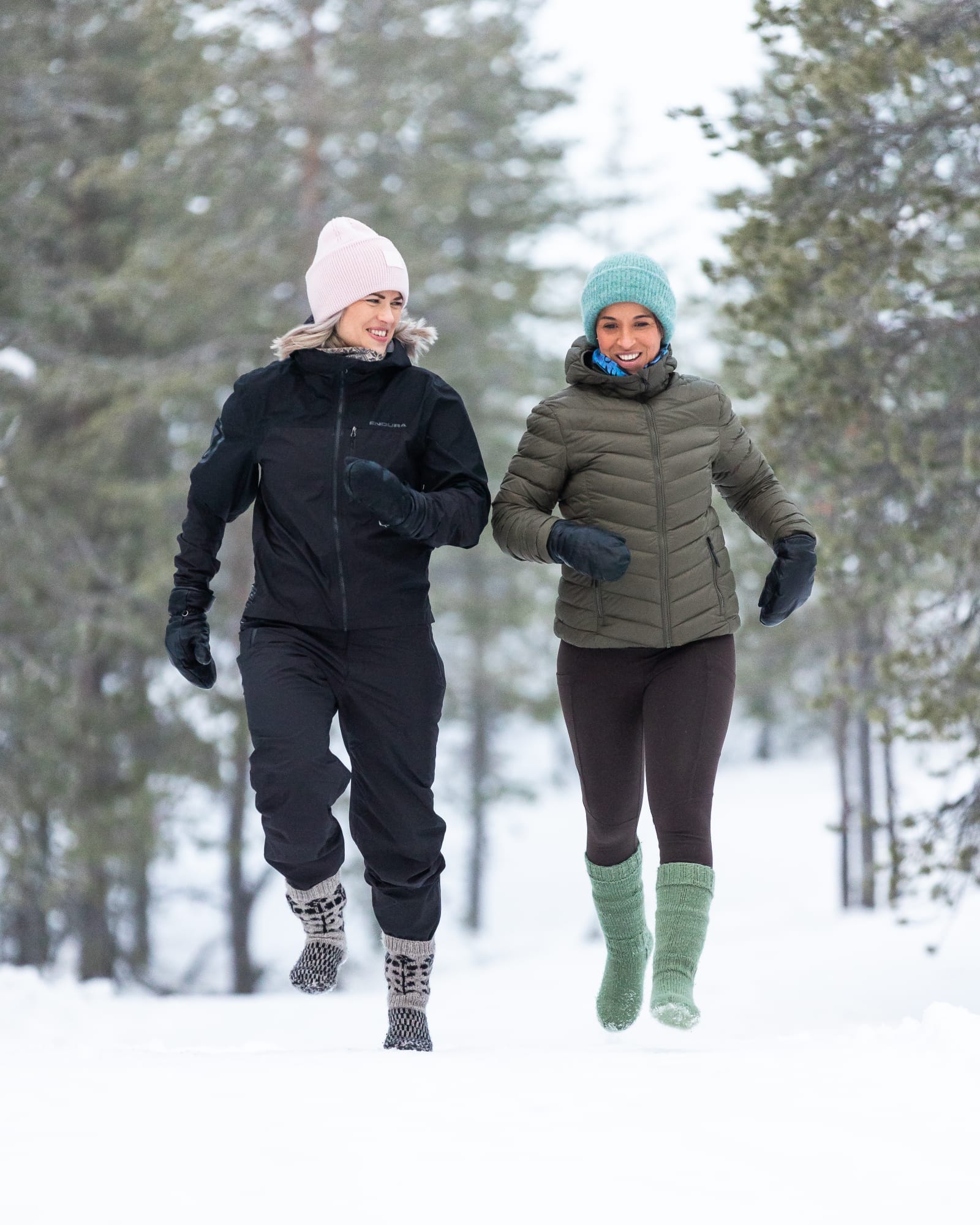 The wool sock running
The specialty and fun of wool sock running is in the footwear: running or other shoes are not worn on the foot, but several socks and at the top wool socks. Running in wool socks is typically practiced during the snowy times of the year.  Running in socks in the snow resembles the feeling of running barefoot with shoes. Every year, the wool sock running Championship games are held in Orivesi, Finland.
Picture: Miika Hämäläinen 
Source: Villasukkajuoksunsm.fi
The most famous person in Lapland
You might know this person and this person might have visited your home last Christmas (if you were nice..). Rovaniemi is the Official Hometown of Santa Claus, and the city's most famous resident can be visited every day of the year in Santa Claus Village right on the Arctic Circle, an attraction that draws more than 500 000 annual visitors from all around the world.
Picture: Lapland Material Bank, Visit Rovaniemi 
Source: visitrovaniemi.fi
Hot and cold
There's a sauna in almost every house in Finland, and in many cases, even small apartments are equipped with one. According to some estimates, there are over 3 million saunas in Finland! There are certain rules on how to behave in Sauna but don't worry too much, you will learn by going to the sauna with locals.
How about a refreshing cold bath in icy water? It may sound crazy but it has some benefits for your body and mind. You actually feel pretty warm afterward. Please remember, never go to avanto immediately after the sauna.
Tips to Google
Work in Lapland 
How to deal with mosquitoes in Lapland?
Lapland ski resorts
How to behave in Sauna
Vuokraovi (rental apartments)
What is laavu?
Avantouinti