Arctic Art and Design students' visit in Hetta
Text: Chau, Emmanuel, Gu, Yiling & Misia
Video and images : Chau-Hsien Kuo
We are a group of Arctic Art and Design students from the University of Lapland in Finland who travelled to Hetta, in north-west Finland, for the annual ice sculpting competition. The peace-themed competition was organized together by Enontekiö municipality, local hotel entrepreneurs and volunteers. The competition started on Thursday morning, the 27th of February, the sculptures having to be completed by noon on Saturday, the 29th of February. The sculptors came from Norway, Ukraine, Germany and Finland, and from various different professional backgrounds, such as industrial design, architecture or stone masonry. There were 14 sculptors in total, who worked in pairs, so that 7 sculptures were entered into the competition.
The village of Hetta is spread over a significant distance along the shore of lake Ounasjärvi, and as the sculptures were sponsored by various local businesses and hotels, they were erected in front of each business or hotel and are thus spread quite far over the entire village. The motifs and techniques used by the artists also were very different. Some sculptures were abstract, with precise, simple, and geometric shapes, whereas others were figurative and had a much more organic style. Others still were a mixture of both, like the one made by two Ukrainian architects, which represented a pair of lovers, rendered in very abstract shapes. The tools and techniques reached from very basic scrapes and knives, to electric saws equipped with blades designed to cut ice. The artists experimented with different techniques to texture the ice and to make it fully translucent, milky white, or covered in thin layers of snow.
The names of the finished artworks were: 1. Northern peace, 2. No worries, 3. Weekend, 4. Balance, 5. Peace spreads in the wings of nature, 6. Peaceful lovers, 7. Peace of mind. We know that the winners were No.7, No.2 and No.3 but having observed the making and final result of each sculpture, we had a difficult time choosing our personal favorites, as the sculptures all were magnificent.
This trip to Hetta was part of a project that promotes the existing cultural program of the Enontekiö municipality (where Hetta is the biggest settlement), and improve online visibility and recognition of these events. The purpose of this specific visit was to observe the ice sculpture competition as a case study, to develop a marketing strategy based on it and other cultural events later in the spring. We are now working on adjusting our plans due to the pandemic situation world is in. The eventual goal of the project is that the strategy we design could then be applied to all the cultural events in Enontekiö, to help valorize the local culture as well as the nature.
With this project, we hope to be able to help the stakeholders (the local actors in tourism, such as hotels and other tourism-related businesses, as well as residents and tourists). We believe that our greatest strengths as a team lie in our multi-cultural and multi-disciplinary background, as we come from China, Germany, Poland, and Taiwan, and have studied different disciplines before beginning our Master's program at the University of Lapland.
We used our short stay in Hetta to conduct interviews with local actors, artists, and tourists from all over Europe. We received a warm welcome in Hetta and enjoyed walking around the village for two (and a half) days, talking to many friendly faces, and gaining valuable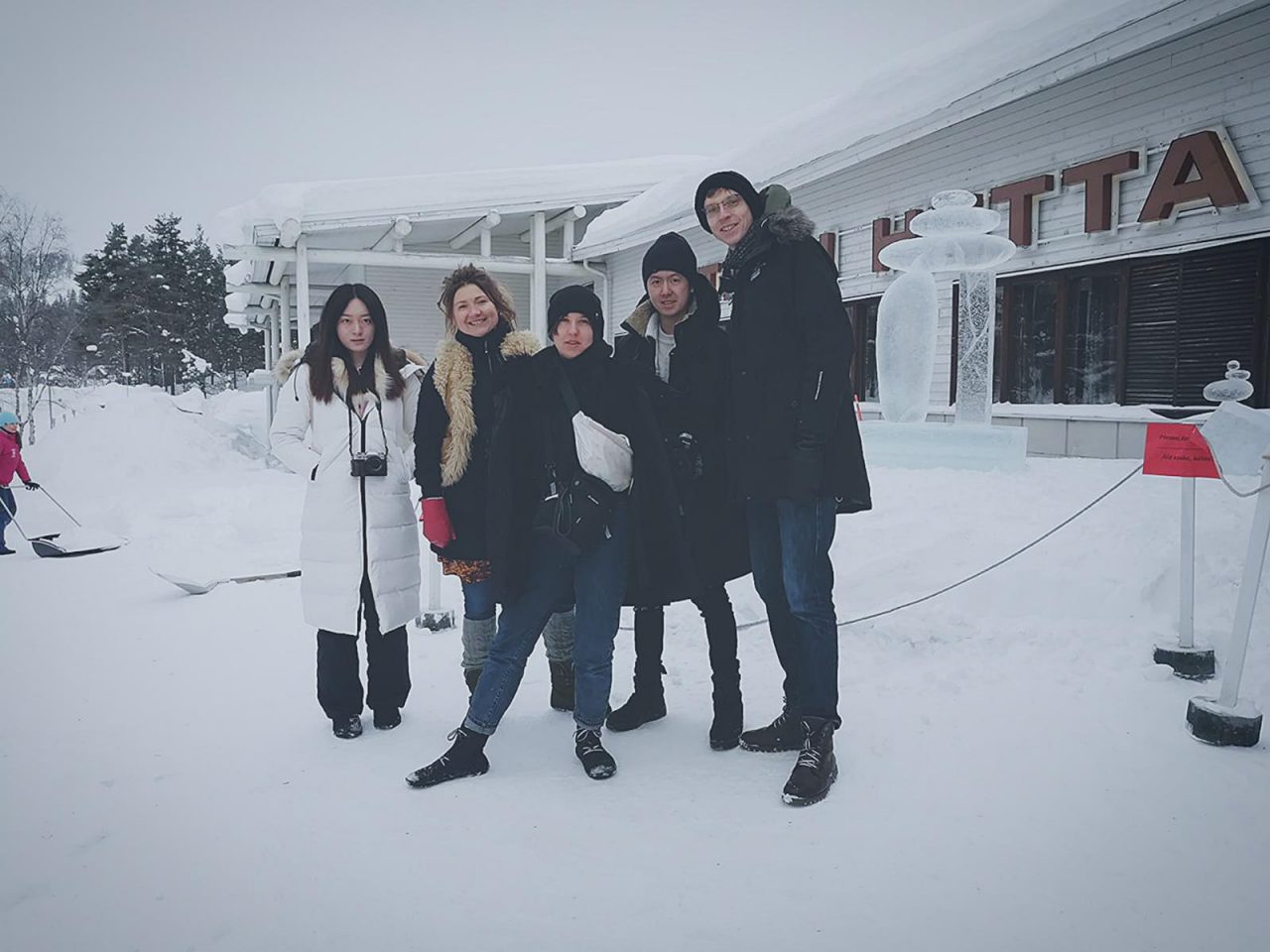 information in the process. We also got to experience the wonderful nature in which Hetta is set and took plenty of pictures and videos, which we can use for the marketing. We even got to see beautiful northern lights!
Greetings from Rovaniemi,
Chau, Emmanuel, Gu, Yiling & Misia