Animals play an important role in tourism services in Finnish Lapland. It is crucial for the tourism image that customers can be assured of the welfare and correct treatment of animals in the tourism services they use. Taking care of the wellbeing of the animals and making it also visible to the customers gives Lappish businesses the opportunity to develop responsible business and improve competitiveness.
On this page you will find a wealth of information produced in the Animal Welfare Tourism Services project (Lapland Center for Economic Development / European Agricultural Fund for Rural Development) in 2016–2018. All of the materials produced during the project are available in English and in Finnish.
Guide book: Animal Welfare in Tourism Services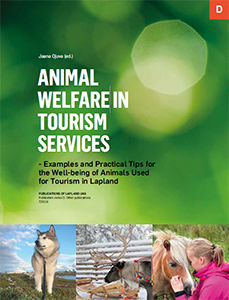 Animal Welfare in Tourism Services – Examples and Practical Tips for the Well-being of Animals Used for Tourism in Lapland (pdf 4,6 MB)
The book provides an overview of the well-being of animals used in tourism, and takes an in-depth look in the behaviour and well-being of the most popular tourist animals in Lapland: reindeer, sled dog and horse.
Infographs
Videos
Reindeer
Reindeer is a workmate of many and a pillar of tourism in Lapland. Gathering good practices about year-round care of reindeer further ensures the well-being of the reindeer in tourism.
Sled dog
The range of program services using sled dogs is wide, ranging from short safaris to week long tours. Providing a proper keeping place for the dogs, taking care of the mental and physical well-being, maintaining the working condition and individual care of the animal – all factors together ensure the well-being of the sled dogs working in the tourism industry.
Horse
Treks and sleigh rides of various lengths are some of the experiences a tourist can enjoy with horses. The wide variety of horse breeds makes possible a variety horse riding services accross Lapland.  Careful selecting of horses, training, teaching and careful planning of program services ensures the safety of the services as well as the well-being of the horses working in tourism.
Playing cards
Is there a future musher or maybe even a horseman in your customer base or in your family? Small or even a little bit bigger animal lovers can test their knowledge about the Lappish tourism animals with these playing cards, and learn something new at the same time. These cards are available in English, Finnish, French, Spanish and Chinese, and you can save and print them from this site for free.
My first reindeer used for tourism – information and guidelines for the purchase decision
Many of the entrepreneurs offering tourism services are reindeer husbandry practitioners, and thus have lots of knowledge about reindeer behaviour and well-being. Sometimes reindeer are purchased to be used in program services or even for domestic use without extensive prior experience of reindeer herding. My first reindeer used for tourism – information and guidelines for the purchase decision (pdf 0.5 MB) is a guidebook containing information about reindeer behaviour and care, and thus sheds light on the issues involved in purchasing a reindeer.