The idea behind the project was to improve the accessibility and knowledge of the cross-border UNESCO World Heritage Struve Geodetic Arc. Accessibility was one of the key challenges to be addressed in cooperation with regional actors, as the measurement points are not necessarily easy to go to; nor there was much information easily available about the measurement journeys. Here you can find links and guidelines to digital solutions, videos, +100 pages of stories and much more for different purposes.
Communication about the Struve Geodetic Arc
In addition to various events and workshops where the project and Struve Geodetic Arc were presented, the project focused also on two topics which brought Struve Geodetic Arc closer to general audience. One was media coverage: media published around 30 stories of the topic, check out articles on On Media.
The second one was the Your World Heritage – Ditt världsarv – Sinun maailmanperintösi – Din verdensarv exhibition tour, which took place in Tornio, Hammerfest, Övertorneå, Ylläs and Enontekiö during the last months of the project from April 2022. Exhibition was present in each location from 2 weeks up to a month; the last exhibition was open at the museum of Torne Valley from mid-September 2022 to early January 2023. Exhibition prints can be visited on links below.
Exhibition prints are available on https://drive.google.com/drive/folders/1rjlQGLZBri_gEx64cMF-Vs01QCWucw2W?usp=share_link (World Heritage sites) and on: https://drive.google.com/drive/folders/1VO9JgU8XAqj-ROH2tDviAMI-jSh0Pi5L?usp=share_link
The project reached more than 16.000 people from all over the world, just by counting in the exhibition visitors (source: statistics).
Basic information about the World Heritage sites in North
Check out Visit Struve Geodetic Arc section on website. You will find all Struve Geodetic Arc World Heritage sites in northern parts of Finland, Sweden and Norway here. Some visits at early stage of the project have been documented on Stories part.
Digital Solutions
The project developed four different technical solutions of the Struve Geodetic Arc.
1. Struve 360VR game
Accessible Northern Finnish points, including also points which are not listed in World Heritage nomination, were documented in 2020. The first version was launched at the museum of Torne Valley as part of their permanent exhibition in February 2022. After that it was updated with World Heritage sites from Sweden and Norway. The game will be published on Steam at some stage.
2. Ultrahaptic e.g. touch-free Struve Info kiosk
Animated Mr. Struve tells about measurements. You can also visit some Struve World Heritage points on screen. Download instructions for installation and use here.
3. Alatornio Church 3D VR
Animated Mr. Struve tells you about basic information about the measurement and how stars are connected to it. What is needed is gaming pc/ laptop and VR glasses.
Download the zipped (still very big! It will take around half an hour to download the programme so please reserve enough time!) programme and user guidelines here.
4. Steps of Struve mobile game
Mobile game Steps of Struve is an adventure game between Tornio-Haparanda and Hammerfest. The callenge is to leave from Tornio and make all the way up to Hammerfest solving the tasks. The game was published for Android on Google Play Store: and for iOS on Apple App Store.
Journey on maps, posters and brochures
Check out specific triangulation extensions and download posters and brochures here and here.
The project has made a Google map of Northern Struve points (https://www.google.com/maps/d/u/2/edit?mid=15ljWfqrIyNF8oUv2Jen876YbJa66LPDC&usp=sharing), so if you are driving near the measurement points you can actually check out the map and locate the tops of the hills and mountains used for measuring the globe in 1840's and 1850's. The journey was also documented as a map poster, downloadable below.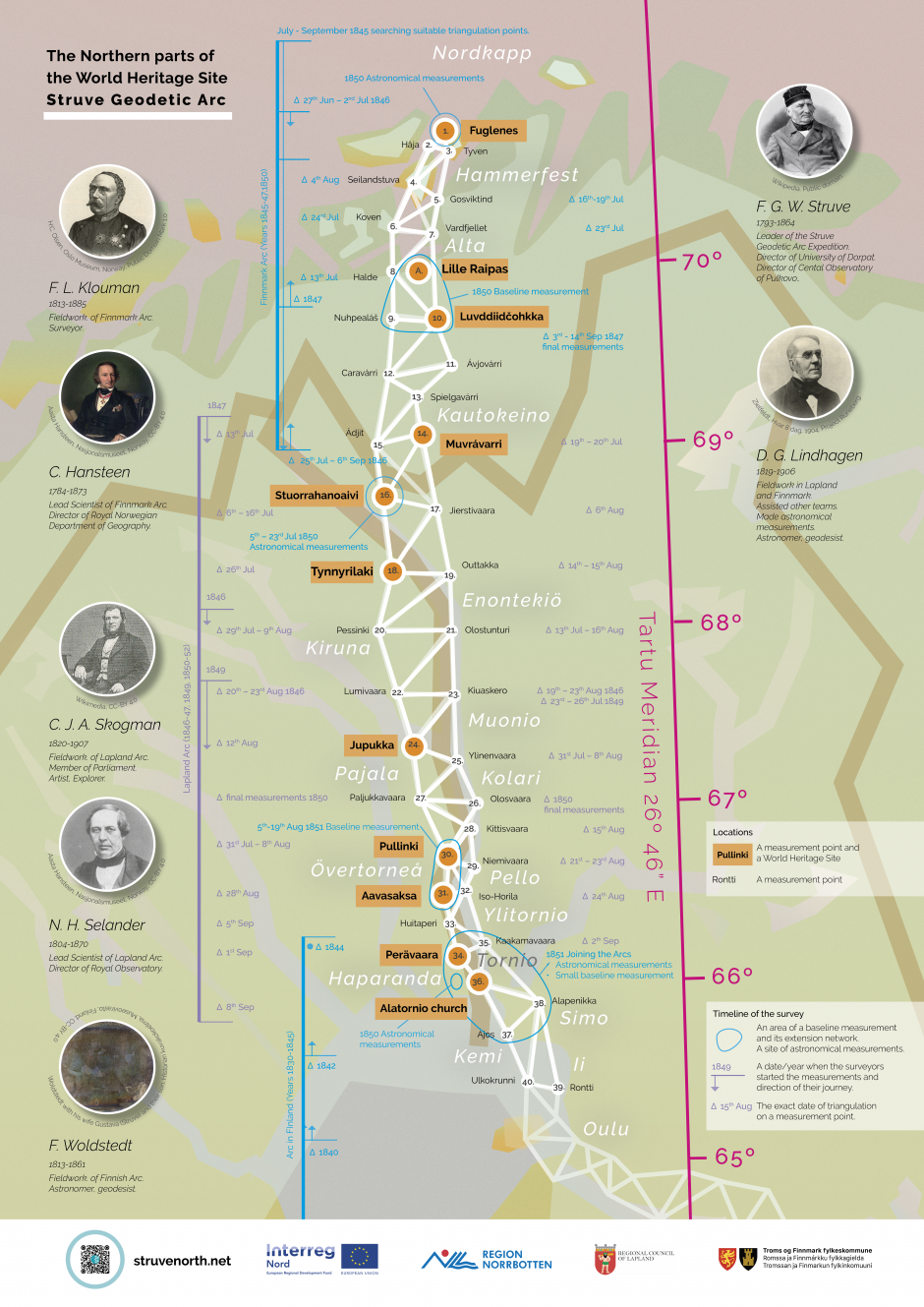 Stories for communities, visitors, schools and businesses
Important notice! Please refer to the project the Northern parts of the Struve Geodetic Arc financed by EU's Interreg Nord programme when you use these files outside of this web site. The contents are free to use.
Content
In English
Suomeksi
På svenska
På norsk
Introduction to Struve Geodetic Arc
Google Docx
Introduction to measurements
Google docx
docx
docx
docx
Technical information about the measurements
Keywords: measuring the Earth, measuring technique, altitude, latitude, longitude, parallel,
meridian, zenith, pole height, triangulation, trigonometry, horizontal angle, vertical angle,
astronomy, astronomical station, baseline.
PDF
–
–
–
Equipment
docx
docx
docx
docx
Explorers
docx x 2
docx
docx
Timeline in Norway
Based on Fredrik Klouman's yearly reports to Norges geographiske Opmaaling (The Norwegian Land
Survey)
PDF
–
–
–
Tornio and the measuring of the Earth
brochure
esite
broshyr
–
Alatornio Church and Kokkomäki
docx
docx
docx
Kaakamavaara story
docx x 2
docx
docx
Perävaara story
doxc x 2
tekstit
kuvat
docx
Huitaperi story
docx
docx
docx
The "Starmen" at Ylitornio/Övertorneå. Baseline measurements of Struve Geodetic Arc
PDF
docx
pdf
Aavasaksa hill
PDF
docx
pdf
Ylitornio measurements, leaflet
pptx
Pullinki hill measurement point
PDF
docx
pdf
Pajala area measurements (Jupukka, Lumivaara, Paljukkavaara)
PDF
docx
pdf
Juoksenki leaflet – measurements at Arctic Circle
Niemivaara hill
docx
Docx
Olostunturi fell and Pessinki hill measurement points
PDF
docx
pdf
Ylinenvaara
PDF
docx
pdf
Kiuaskero hill
PDF
docx
pdf
Tynnyrilaki
PDF
docx
pdf
Kittisvaara hill and Olosvaara hill measurement points
PDF
docx
pdf
Points of the Struve Geodetic Arc at Enontekiö. Jierstivaara hill,
Stuorrahanoaivi hill and Ounastunturi fell.
PDF
docx
pdf
Timeline of measurements in Norway
Based on Fredrik Klouman's yearly reports to Norges geographiske Opmaaling (The Norwegian Land
Survey)
PDF
–
–
–
Other:
Forestry in Torne Valley
docx
docx
pdf
docx
The Art of Survey of the Earth from Finnmark
site
Tornio Valley Horse
post
docx
docx
National sites of Struve Geodetic Arc:
Norway
site
struve.no
Sweden
sidan
Finland
site
sivusto
sidan
Inspiration for sightseeing and products
Check out blog post of product ideas collected in the project.
We create new ideas for tourism products based on the only World Heritage Site on Lapland!
Lapland UAS tourism experts and students visited some of the sites in Finnish Torne Valley and summarised the potential and challenges of Struve Geodetic Arc in autumn 2020 and spring 2021.
Developing cultural heritage of Struve Geodetic Arc as competitive success factor in Tornio Valley
More tips for educators
Check out further tips for education on Ever wanted to be an Explorer? Learning along Struve Geodetic Arc | The Northern parts of the World Heritage Struve Geodetic Arc (eoppimispalvelut.fi)
Closing words
More than 230 people have collaborated in making this project happen. We want to thank you for an intensive but joyful ride along the Northern parts of the unique, cross-border UNESCO World Heritage Struve Geodetic Arc!
If you have further questions about the results and how to use them, please contact our team! Thank you and hope to see you soon somewhere along the journey!