What with the upgrade of Lapikampus Moodle to version 3.1, the Poodle recording plugins have been upgraded too. Poodll 3 offers recording via HTML5, which is more suitable for mobile devices. As a result the look of the recorders in Moodle has changed. The picture below shows the MP3 recorder (the Finnish version) as it now looks in the HTML editors in Moodle. This example is from a discussion forum (click on the pic for a bigger version):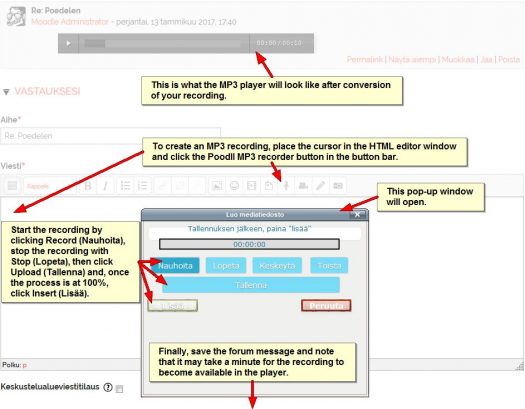 HTML5 has been described as the future of the Web (That is probably why it does not work in Internet Explorer!). The Poodll HTML5 MP3 recorder uses recording via the cloud. As a result the recording must be uploaded and converted, which may cause a slight delay before it becomes available. Recording via the cloud has the added advantage that the Poodll video recorder (which uses a very similar pop-up window to the one above) that until now could only record short clips (due to the file size limit in the Moodle server) will now allow recordings of over 5 minutes in length. The exact limit may depend on the device and connection used.
Note that older browsers like Internet Explorer cannot handle HTML5 properly. The recommended browser for Poodll is the latest version of Mozilla Firefox!
RSS feed for comments on this post.
Leave a Reply
You must be logged in to post a comment.