In Moodle 2 the user menu could be accessd via the Administration block under the link "My profile settings". In Moodle 3 the user menu has moved to the navigation bar, from where it can be opened and used as shown in the image below with instructions for changing the password (NB: Only users with manual accounts can change their password, if you use your school network account, the password can only be changed in the school network!).
HOWEVER, this functionality is only available in themes that have been upgraded for Moodle 3. Unfortunately, some of our present themes (like the LapinAMK theme) are still Moodle 2 themes. If you need to access the user menu in one of these themes, the work around is to click your name (This opens your profile), click Edit profile and then in the breadcrumb trail click Preferences (or, in Finnish, Asetukset):

It may take a while before we can update our LapinAMK theme to a Moodle 3 version. Until that time teachers might choose to replace this theme with a Moodle 3 theme like Klass, a theme with blue colours. Changing a course theme is done in the course settings: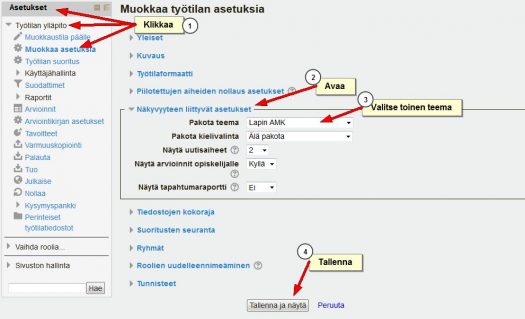 RSS feed for comments on this post.
Leave a Reply
You must be logged in to post a comment.