Our virtual learning environment Moodle gathers quite a bit of data from its users. This data can be navigated by teachers on, for instance, the log page of an activity, or the outline page of a student, to obtain an impression of the access levels to the activity or the activity level of the student. However, it was not always easy to get a good overview and spot students with low commitment to the on-line course work.
Hence, Marcelo Schmitt, a Moodle developer from Brazil, designed a plugin that compiles data from a course and presents it in interactive charts that are easy to overview. It can be added as a side block in a Moodle course. This block is called Analytic Graphs and it is only visible to teachers. It offers a better way to keep track of the on-line activity of their students and the results scored in graded activities
We are in contact with the developer about some teething problems that the plugin still has. Once these are overcome, and we have created a Finnish translation for the block, we will introduce this new block in Lapinkampus Moodle as an extension to the functionality that is already available. Check out the screenshots below to get an impression of the functionality offered by the Analytics Graphs plugin (you can click on the pictures to get a larger version).
The Content access chart
The Hits distribution table
The Student information charts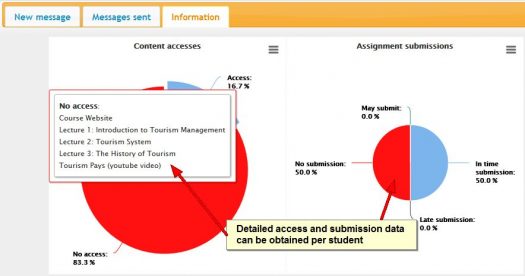 The Assessment distribution chart
These are not all the charts the plugin has to offer, so do check it out once it becomes available.
RSS feed for comments on this post.
Leave a Reply
You must be logged in to post a comment.